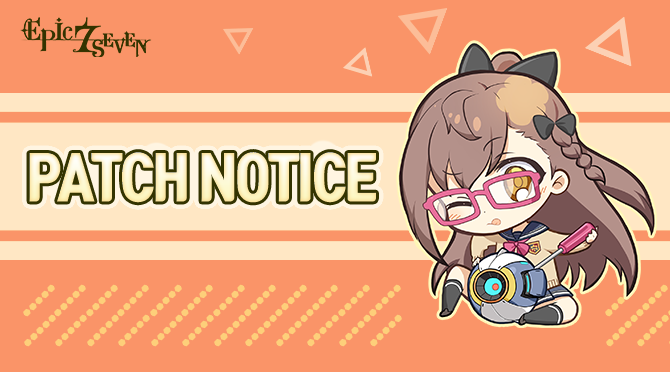 Hello, Heirs.
This is GM Dominiel.
Epic Seven will have a patch on 1/9 (Mon).
Please note that while players may experience some server instability during this time, your game data will be unaffected.
Please see below for more details.
■ 1/9 (Mon) Patch Information
1. Schedule: 1/9 (Mon) 14:00 UTC
2. Details: The following issue will be fixed.
- An issue where the Guild War Triumph Season did not end properly.
3. Affected Contents: Players will be temporarily unable to connect to the game.
※ Please Note
- Even if the game closes after the patch application, the player's game data will be unaffected.
- Once the patch is distributed, reconnecting to the game will automatically install the patch.
- During the patch, you may be abruptly disconnected from the game. Reconnecting to the game will allow you to play as normal.
- If possible, we ask that our players wait until the patch is over to log into the game.
We apologize for any inconvenience that may occur due to this patch.
We will continue doing our best to provide you with the best service possible.
Thank you.

Fix the nightmare raid please! The bosses reset but heroes used did not! It seems to cross out heroes used in current month for next month rather than current.

Thanks to this we are not able to watch all total attacks and defenses from last gw season. You ****** up again smilegate, thanks.

bro... just reverse the lab and raid changes. that content is miserable and guaranteed to cost you more active players than it would ever net.

death dealer ray is trash. i'm sorry, but he is trash 🥹 i blew all my mystics cos he looks cool and he isn't even usable ***

K3N27I dont give a **** about genshin.

And no, Im not defending SG, but its not SG's fault that you are dumb enough to not realize he wasnt good from his release video.

Filbulwinteri dont care that u dont care about genshin asswipe, it was an example. cos people like you defend a company for false advertising something and under delivering. u understand that? i guess ur the type of person who just eats whatever the *** is placed in front of you even if it wasn't what you ordered? keep telling yourself you're hotshit my guy, i got the unit. better to have it and not need it than need it and not have it anyway. gofckyourself

Nice fix, it still is broken. As for the other commenters in here, you're a bunch of dumbasses as this fix is about guild war.