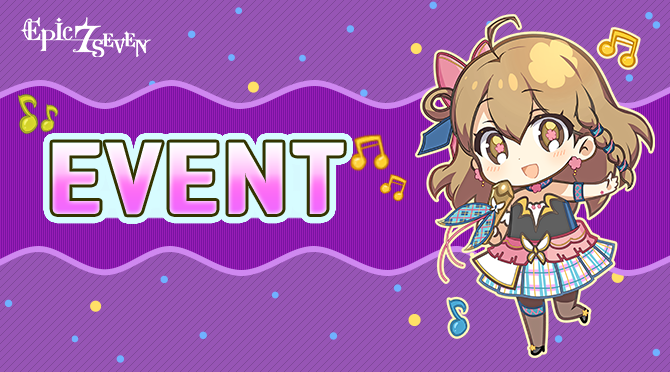 Hello, Heirs!
This is GM Dominiel.

Happy Lunar New Year!
Arky and I prepared an amazing event for you! Show us your skills and solve the crossword below!
■ Epic Crossword Event Details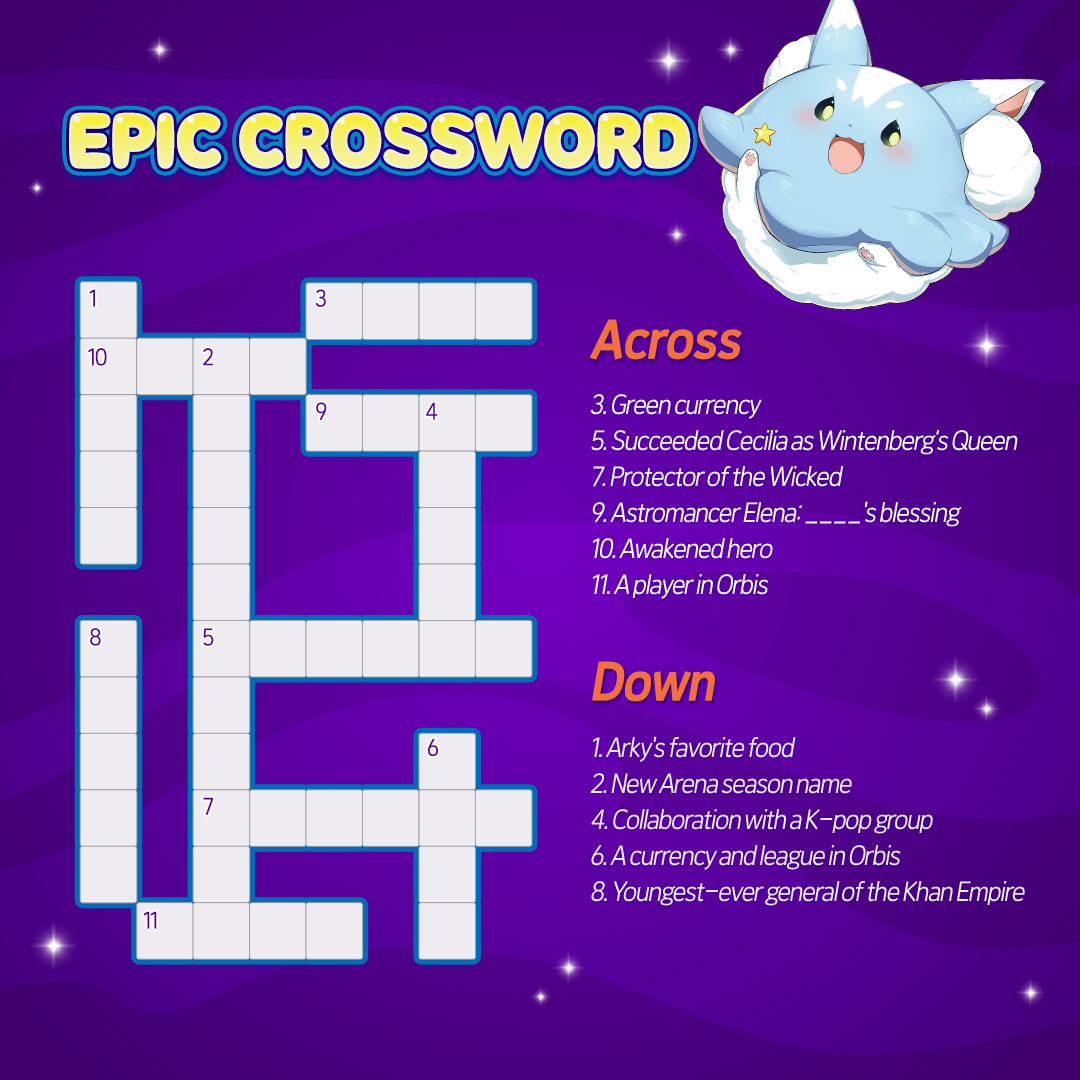 1. Schedule: 1/27 (Fri) 05:00 ~ 2/2 (Thu) 14:59 UTC
2. Eligible participants: All Heirs on the Korea/Asia/Global/Europe/Japan Servers
3. How to participate:
i) Solve the Epic Crossword.
ii) Leave your answers in the comments below.
iii) Leave your [Nickname/Server/Epic Crossword Solutions] in the comment section below.
iv) Get at least 3 correct answers to receive a participation reward.
4. Comment Format: [Nickname/Server/ Epic Crossword Solutions]
5. Rewards:
- Heirs who got three or more correct answers: Leif x3
- Lucky Reward (10 Heirs): 2023 Epic Seven Diary Pack
6. Reward Distribution: 2/8 (Wed)
※ Please Note
- This event was conducted in accordance with our Event Regulations as outlined on our official website.
- Be sure to provide us with the correct details of your in-game name and server following the given posting format.
- Players who write incorrect in-game account details when participating in the event, will not be able to receive rewards and their participation will be canceled.
- Players must get at least three answers correct to receive rewards.
- In-game event rewards will be sent to your in-game mailbox. (Expires after 7 days)
- Duplicate entries are not allowed, and only the first post will be eligible for participation. (Once per account. You cannot participate in the same event more than once on other STOVE communities with different languages.)
- If it is confirmed that your submission was not legal or that you participated in any fraudulent manner, your winnings may be canceled without notice.
- We will collect the personal information of the winners following the winners' announcement.
- Due to COVID-19, there may be delays or changes in delivery.
- In case of delivery will not be possible due to international restrictions, we may deliver the package once the situation has improved.
- Depending on the circumstances the prize may be changed into an in-game item with an equivalent value or a different item.
- Please contact the [Epic Seven Customer Team] for any questions about the event.
Thank you!

Zaphie / Asia / 1. CAKES ; 2. INDOMITABLE; 3. LEIF; 4. AESPA; 5. ILLYNAV; 6. COIN; 7. BEEHOO; 8. PEIRA; 9. STAR; 10. ADIN; 11. HEIR

Thighs/Global/ 2. INDOMITABLE: 3. LEAF: 4. AESPA: 5. ILLYNAV: 6. COIN; 7. BEEHOO: 8. PEIRA: 9. STAR: 10. ADIN: 11. HEIR

NoctisE7 / Asia / 1. CAKES ; 2. INDOMITABLE; 3. LEAF; 4. AESPA; 5. ILLYNAV; 6. COIN; 7. BEEHOO; 8. PEIRA; 9. STAR; 10. ADIN; 11. HEIR

CCPCHEN / Global / 1. CAKES ; 2. INDOMITABLE; 3. LEAF; 4. AESPA; 5. ILLYNAV; 6. COIN; 7. BEEHOO; 8. PEIRA; 9. STAR; 10. ADIN; 11. HEIR

Aergia / Europe / 1. CAKES ; 2. INDOMITABLE; 3. LEAF; 4. AESPA; 5. ILLYNAV; 6. COIN; 7. BEEHOO; 8. PEIRA; 9. STAR; 10. ADIN; 11. HEIR

KeaChan/Global/ 1. CAKES ; 2. INDOMITABLE; 3. LEAF; 4. AESPA; 5. ILLYNAV; 6. COIN; 7. BEEHOO; 8. PEIRA; 9. STAR; 10. ADIN; 11. HEIR

MinRolls / Global / 1.CAKES ; 2. INDOMITABLE; 3. LEAF; 4. AESPA; 5. ILLYNAV; 6. COIN; 7. BEEHOO; 8. PEIRA; 9. STAR; 10. ADIN; 11. HEIR

Featherseven / Global 1.) Cakes 2.) Indomitable 3.) Lief 4.) Aespa 5.) Ilynav 6.) Coin 7.) Beehoo 8.) Peira 9.) Star 10.) Adin 11.) Heir

CounterSix / Global / 1. CAKES / 2. INDOMITABLE / 3. LEIF / 4. AESPA / 5 ILLYNAV / 6. COIN / 7. BEEHOO / 8. PEIRA / 9. STAR / 10. ADIN / 11. HEIR

Djinnii / Global/ 1. CAKES ; 2. INDOMITABLE; 3. LEAF; 4. AESPA; 5. ILLYNAV; 6. COIN; 7. BEEHOO; 8. PEIRA; 9. STAR; 10. ADIN; 11. HEIR

TakGoo / Global / 1. CAKES ; 2. INDOMITABLE; 3. LEAF; 4. AESPA; 5. ILLYNAV; 6. COIN; 7. BEEHOO; 8. PEIRA; 9. STAR; 10. ADIN; 11. HEIR

MisakaRailG / Europe / 1. CAKES ; 2. INDOMITABLE; 3. LEIF; 4. AESPA; 5. ILLYNAV; 6. COIN; 7. BEEHOO; 8. PEIRA; 9. STAR; 10. ADIN; 11. HEIR

ZeeゲームID / Global / 1. CAKES ; 2. INDOMITABLE; 3. LEAF; 4. AESPA; 5. ILLYNAV; 6. COIN; 7. BEEHOO; 8. PEIRA; 9. STAR; 10. ADIN; 11. HEIR